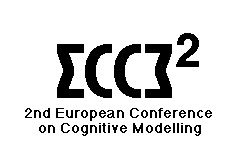 ---
Last updated 24-Dec-10

SECOND EUROPEAN CONFERENCE ON COGNITIVE MODELLING (ECCM-98)
Nottingham, England, April 1-4, 1998
---
GENERAL INFORMATION
How to order the proceedings. [Now out of print]
Summary of the conference published in AISBQ. The 2nd European Conference on Cognitive Modelling (ECCM-98) will be held in Nottingham (how to get here) from April 1st to 4th 1998 (including a day of optional tutorials). The conference will cover all areas of cognitive modelling, including symbolic and connectionist models, evolutionary computation, artificial neural networks, grammatical inference, reinforcement learning, and data sets designed to test models. Papers that present a running model and its comparison with data are particularly encouraged. This meeting is open for work on cognitive modelling using general architectures (such as Soar and ACT) as well as other kinds of simulation models. These meetings were introduced to establish interdisciplinary co-operation in the domain of cognitive modeling. The first meeting held in Berlin in November 1996 attracted about 60 researchers from Europe and USA working in the fields of artificial intelligence, cognitive psychology, computer linguistics and philosophy of mind.
Programme
The programme will include presentations of papers, demo sessions, invited talks, discussion groups and tutorials on cognitive modeling in the fields of AI programming, classification, problem solving, reasoning, inference, learning, language processing and human-computer-interaction. As Nottingham is an area of 'high touristic value' in Britain, it will also include a social evening out. After the conference, there are things to see and do in Nottingham.

More detailed programme information
Programme chairs
Richard Young (U. of Hertfordshire) and Frank E. Ritter (U. of Nottingham)
Programme committee
Paul Brna, paul@cbl.leeds.ac.uk
Axel Cleeremans, axcleer@ulb.ac.be
Fernand Gobet, frg@psychology.nottingham.ac.uk
Daniel Kayser, dk@lipn.univ-paris13.fr
Christian J Lebiere (ex officio, as ACT symposium organiser), cl+@andrew.cmu.edu
Gerhard Strube, strube@cognition.iig.uni-freiburg.de
Maarten van Someren, maarten@swi.psy.uva.nl

Local arrangements committee
Frank Ritter, frank.ritter@nottingham.ac.uk
Gary Jones, gaj@psychology.nottingham.ac.uk
David Golightly, dag@psychology.nottingham.ac.uk
George Kuk, gk@psychology.nottingham.ac.uk

Invited speakers (all confirmed)
Marcel Just, USA
Rene Amalberti, France
Erik Altmann, USA


Further information on the invited speakers.
IMPORTANT DATES
Submission deadline: 7 January 1998
Decision by: 6 February 1998
Early registration deadline: 6 March 1998
Camera ready copy due: 13 March 1998
Conference: 1-4 April 1998

---
---
Initial version by, and maintained by: Frank Ritter (frank.ritter@nottingham.ac.uk)
Department of Psychology + 44 (0)115 951-5292 (office + answerphone)
U. of Nottingham + 44 (0)115 951-5324 (incoming fax)
Nottingham NG7 2RD http://www.psychology.nottingham.ac.uk/staff/ritter/
England

We wish to thank the following for their contribution to the success of this conference:

Department of Psychology, U. of Nottingham
Department of Psychology, U. of Hertfordshire
Engineering and Physical Science Research Council (UK) European Research Office of the US Army
Department of Computer Science, U. of Nottingham
United States Air Force European Office of Aerospace Research and Development
EuroSoar (UK)
David Golightly for the logo

This was http://www.psychology.nottingham.ac.uk/staff/ritter/eccm98/home.html